In the library of the museum there are more than 1500 volumes related to typical modeling topics: cars, ships, military vehicles, airplanes, texts of history of uniformology and heraldry. The library is open to the public and is therefore freely available both for members and visitors who are interested in deepening their knowledge on these topics.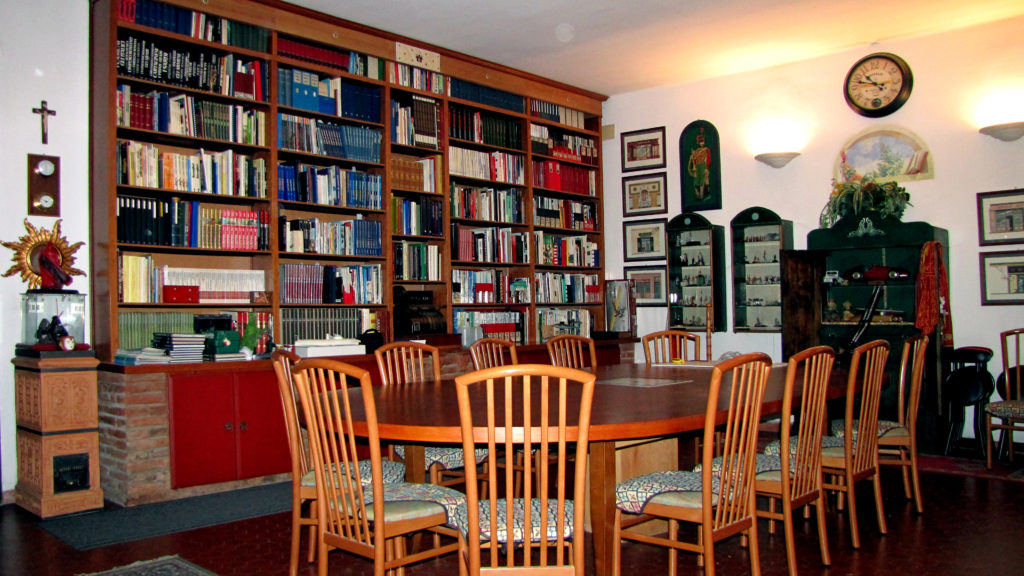 In the showcases near the windows you can see amazing record speedboats, often driven by the same crazy people who drove the cars you have just seen.
In the showcase on the left we point out the Blue Bird, with which he died in 1967 Donald Campbell, son of Malcom, died in Lake Coniston on the boat that toppled to 480 km / h in an attempt to break the speed record on the ' water.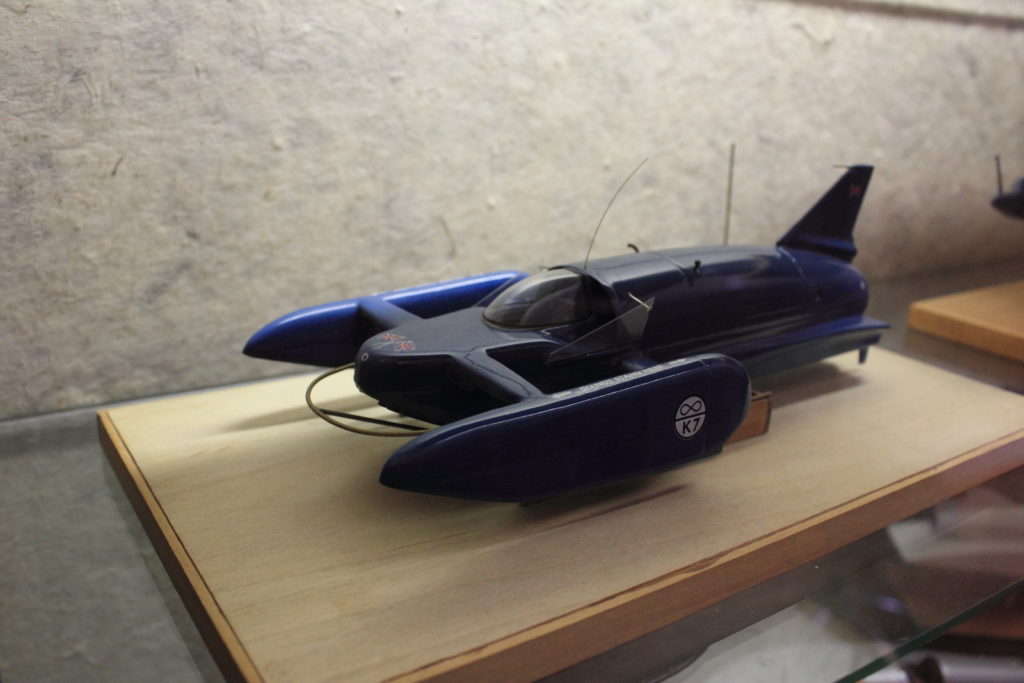 In the second showcase we point out the BOAT where John Cobb died, engaged in the attempt to break the speed record as well: a long and tapered silver and red hull with two large stabilizers on the sides. Cobb died in 1952 in Loch Ness lake, feeding the popular fantasy of a hypothetical revenge from the homonymous monster. Much more realistically, the boat took a wave and rose.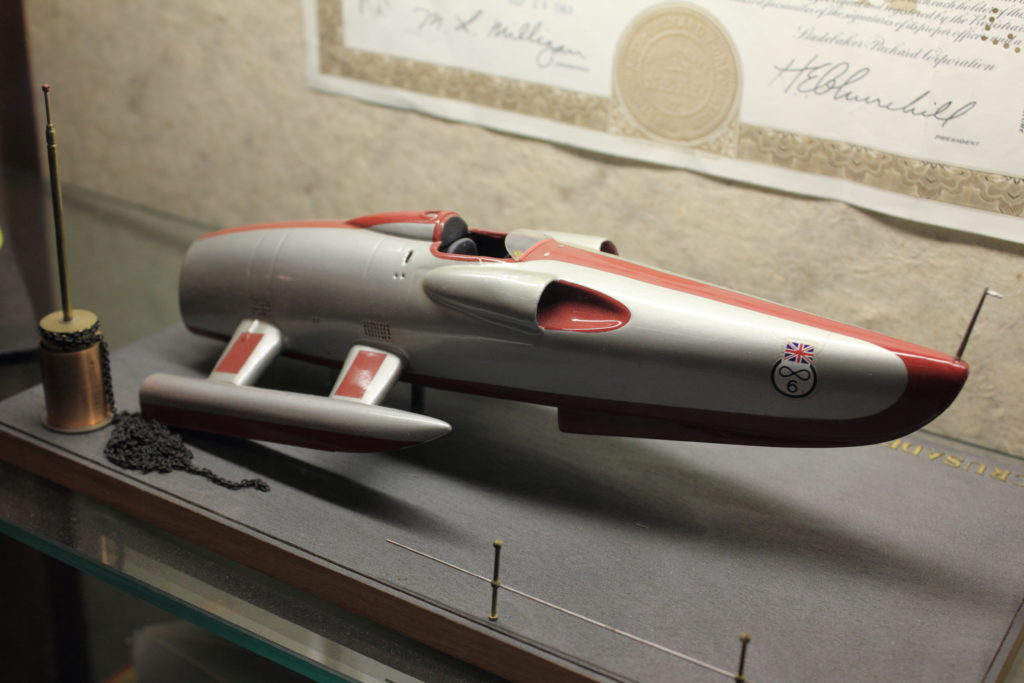 Now stop and admire the great diorama that represents the arrival of Lucrezia Borgia, daughter of Pope Alexander VI, who on February 2, 1501 married Duke Alfonso d'Este.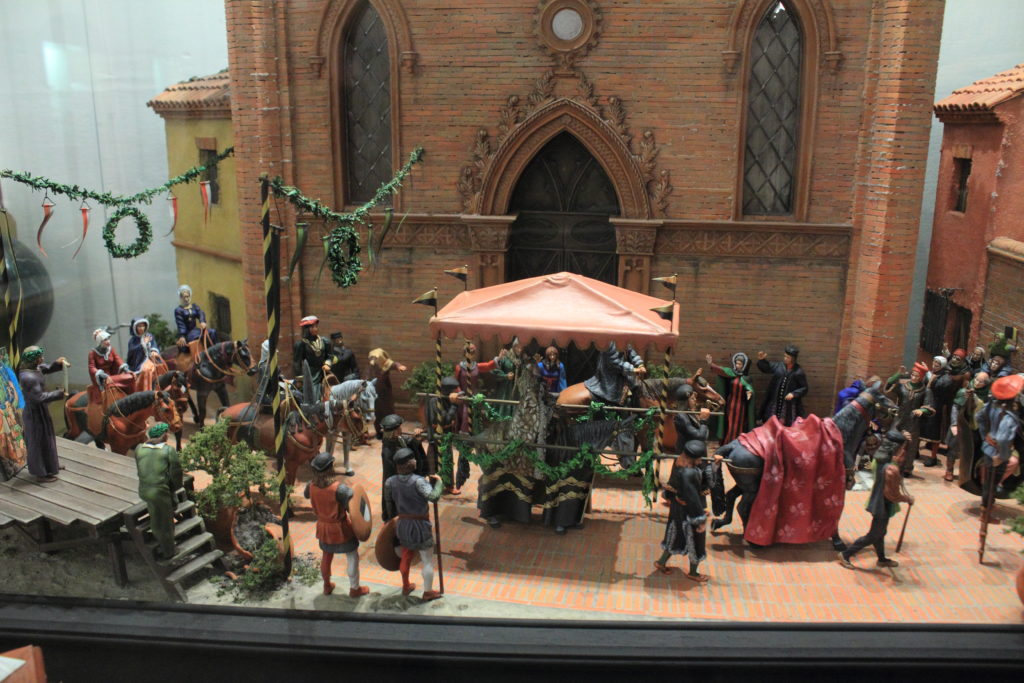 The event shocked the silent  Ferrara, because of the sinister fame which preceded that noblewoman. Fame which was completely undeserved, as posterity later ascertained.
Instead, Lucrezia found the tranquility she was looking for in Ferrara. Here, she did charitable works and dedicated herself to an almost monastic life.
The diorama deals with a small part of the road called Via dei Sabbioni (today Via Saraceno), in front of the Church of Sant'Antonio Abate from the 14th century. In this Church, which still exists, the friars of the order of St. Anthony of Vienne officiated.
The diorama represents the central part of the wedding procession with Lucrezia accompanied by the ambassador of France and the elders of the Orsini family.
Lucrezia is protected by a canopy worn by servants.
The noblewoman is represented with the features taken from the fresco by Pinturicchio, with the face bleached by the "smooth", very fashionable in her period. It was a very poisonous mixture of various substances, among which mercury oxide, which Lucrezia personally prepared mixing fragrant essences.